Every technology company wants to use the complete stack of available tools to its full potential. This is true for PortaOne as well. We wanted to offer our customers an easier way to tackle their data sync and integration challenges, so we partnered with IPaaS (integration platform as a service) company Boomi to make it happen. That partnership resulted in PortaOne Workflows, a Boomi-based tool that saves your team time, money, and resources in a very literal way.
We invited Mike Britz from ECN to tell us how his company used PortaOne Workflows to achieve a high level of integrated automation and efficiency and to free itself from unreliable and resource-intensive data syncs. Watch the full webinar recording to learn about ECN's use of PortaOne Workflows in maximum detail, or read the summary of highlights below to get the big picture on how our solution worked in this real-world case study. 
PortaOne Workflows Webinar Highlights
PortaOne Workflows is the PortaOne brand name for Boomi-based practices. The slide that follows presents just a few of the processes that are possible using this tool: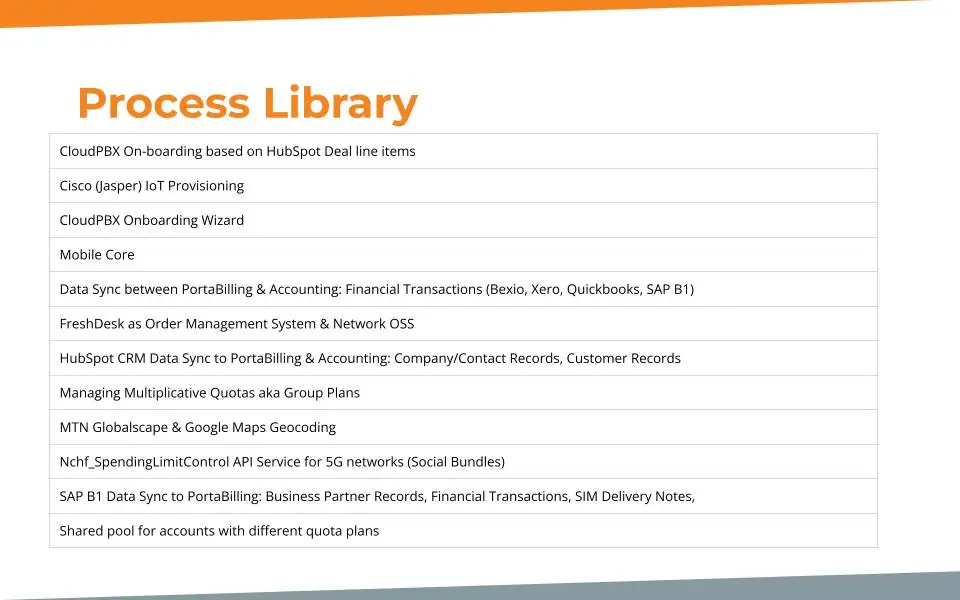 PortaOne Workflows has three unique benefits for CSPs:
1. It is offered as both a managed self-managed service.
2. PortaOne customers who choose the managed service approach receive five free hours per month of professional services.
3. The IPaaS model allows CSPs to get started with their integrations very quickly. 
During this webinar, PortaOne Senior Project Manager Sergii Kirik presented a Workflows case study from our customer ECN. The South African-based CSP needed a comprehensive solution that could efficiently combine technological and business tasks. The company's goals were to engage resellers, boost product sales, and increase both their revenue and their market share while keeping SIM provisioning operational expenses as low as possible via reliable, end-to-end automation that was as hassle-free as possible.
Sergii offered an overview of the architecture of our proposed solution, which you can see in the "map" below (or hear explained at the 20-minute mark of the webinar video).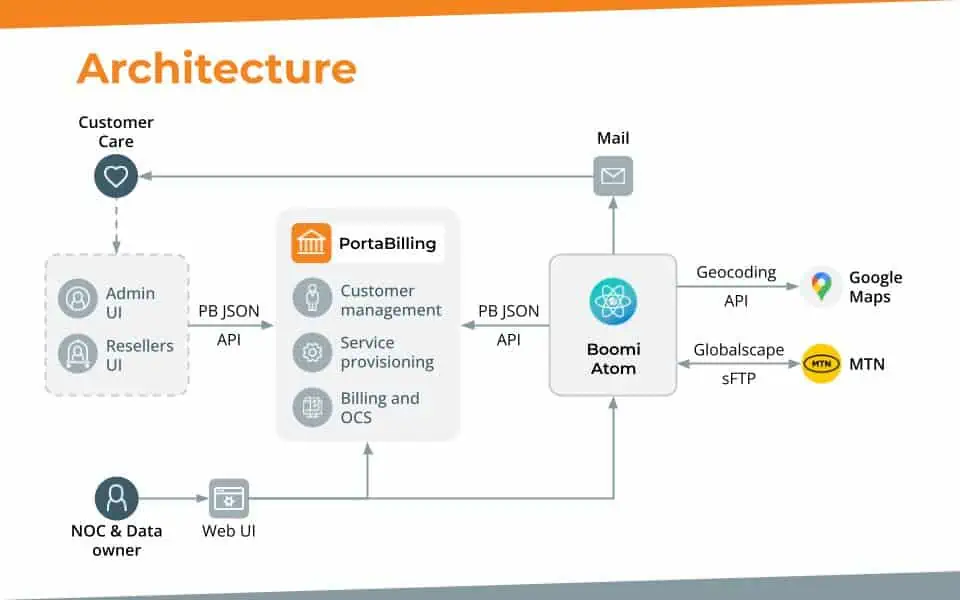 This no-code approach offers several advantages over traditional technology solutions:
No code means more flexibility – a critical benefit in a business world characterized by rapid and always-changing technology adoption. You can customize this workflow to fit your needs, both now and as your needs continue to change. Boomi has a proven track record of very fast updates and feature launches, which helps our customers grab market share quickly when a potentially popular new product becomes available to businesses and end users.
Boomi also has a strong track record of value and transparent pricing, as rated by a recent Gartner report.
For the remainder of the webinar, ECN's Mike Britz offered an overview of his company's experience with using PortaOne Workflows. You can jump to minute 29 of the video to hear:
The key differences between a traditional development process and one that uses PortaOne Workflows
How ECN planned out the development process and assigned its roles
How the solution can be used by non-technical staff members, or even business clients
What challenges the ECN team faced when implementing no code in their products, and how they solved them
What Boomi/PortaOne Workflows is suitable for, and what it isn't
If you would like to learn more about PortaOne Workflows or want to talk with our team about how you could apply the lessons from this case study to your business, please get in touch. We are always happy to answer your questions.