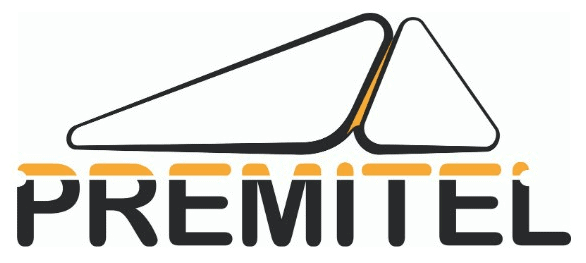 At PortaOne, we strive to empower each of our CSP customers to design business processes that enable their growth, and to support these processes with a range of IT systems and the integrations that connect them, be it CRM, accounting systems, helpdesk, or anything else. Most importantly, such integrations should be done quickly and with minimum effort, ideally using cost-efficient engineering resources already available on the CSP's side and avoiding expensive integration projects via 3rd parties.
Using different back-office tools and platforms separately, without proper integration, means manual data entry, duplicate work, and a hugely increased risk of human error, inconsistent customer information, revenue leakage, and problems with scaling. This is why integrations (also known as automated workflows) are so essential if you want to avoid these negative impacts on operations.
PortaSwitch provides fast and flexible integration and automation capabilities through PortaOne Workflows powered by Boomi – a Dell Technologies iPaaS integration platform that was named a leader in the 2019 and 2020 Gartner Magic Quadrant for Enterprise Integration Platform as a Service report. All required Boomi components and modules are bundled into the PortaOne Workflows subscription, so you don't have to purchase anything directly from Dell. PortaOne Workflows provides a pre-made connector to PortaBilling (something you will definitely need!) along with example workflows you can use as template for your own. Plus, since PortaOne has access to wholesale Boomi pricing, we are passing that savings to you.
Recently, we successfully used PortaOne Workflows to synchronize PortaBilling, HubSpot CRM, and Xero Accounting for Premitel, a South African ISP and long-time PortaOne client.
Premitel uses HubSpot to capture information and contact data for potential customers and partnerships. After closing a sale and signing a contract with a new customer, Premitel needs to use the information they already have to create a profile for this customer in PortaBilling.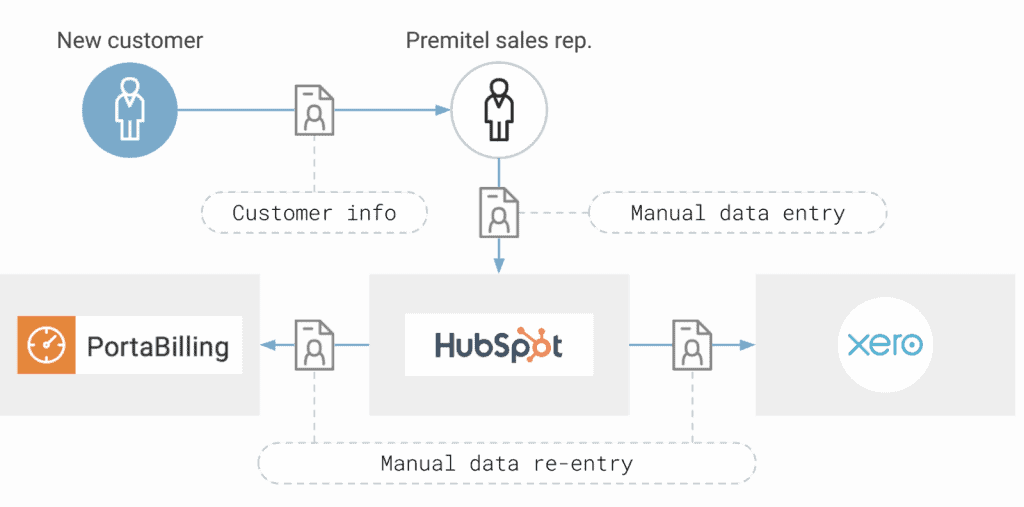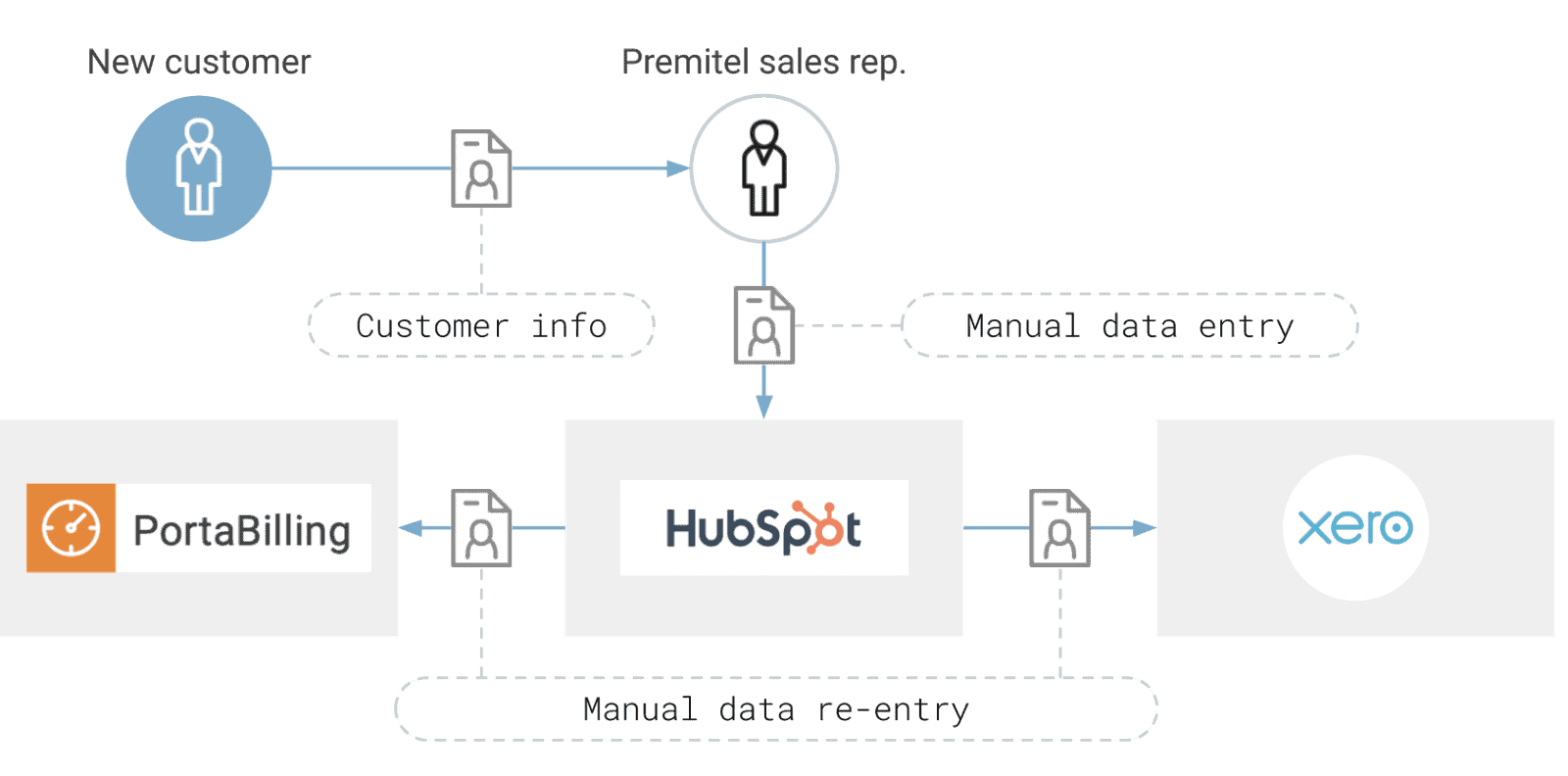 In the past, there were three ways Premitel could approach this challenge – each one time- and resource-consuming, and prone to human error:
No integration – manually entering data in each system separately is a non-scalable option with a risk of out-of-sync data, inefficient and error-prone data entry, and frustrated staff.
Integration through developing code – Premitel could ask PortaOne (via a request for professional service, AKA a "feature request") to develop and implement a module that transports the data between each system via API, using a programming language such as Java, Python, or Perl. A separate module would be required for each individual integration (e.g., Hubspot to PortaBilling). Since the developer has to study the API and data structure of both systems, this would be a lengthy (and costly!) process. It's also difficult to adjust once implemented, which Premitel would have to do, as third-party platforms keep changing and rolling out updates.
Using their own development resources – also costly, lengthy, and just as inflexible as the previous approach. Plus, it comes with a steep learning curve for Premitel's developers (along with the need to maintain the self-made integration in the future).
PortaOne Workflows offers a simpler way to solve the integration problem. The Dell Boomi platform provides ready-made "connectors" for numerous popular apps, including HubSpot and Xero. For Premitel, these connectors allowed us to bridge these popular third-party instruments to PortaSwitch without having to write any new integration code. As a result, integration simply becomes a matter of specifying the parameters and transferring them to PortaSwitch.
Now, every time Premitel signs a new customer or launches a new deal, HubSpot will automatically create a corresponding customer profile and account in PortaBilling. Also, each new Premitel customer is automatically added into Xero Accounting for automated invoice generation. Now, Premitel has eliminated any need for redundant data entry – along with the risk of human error that comes with it.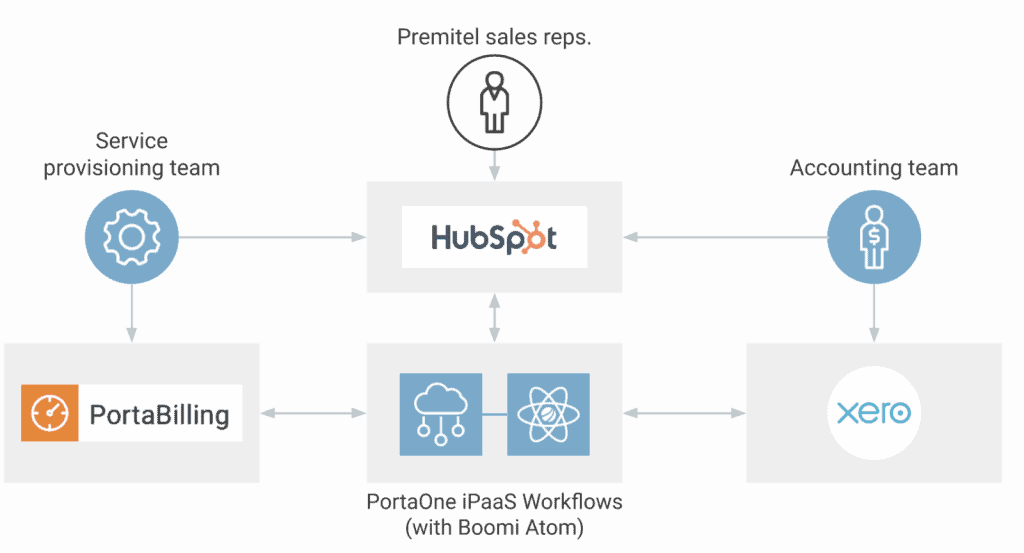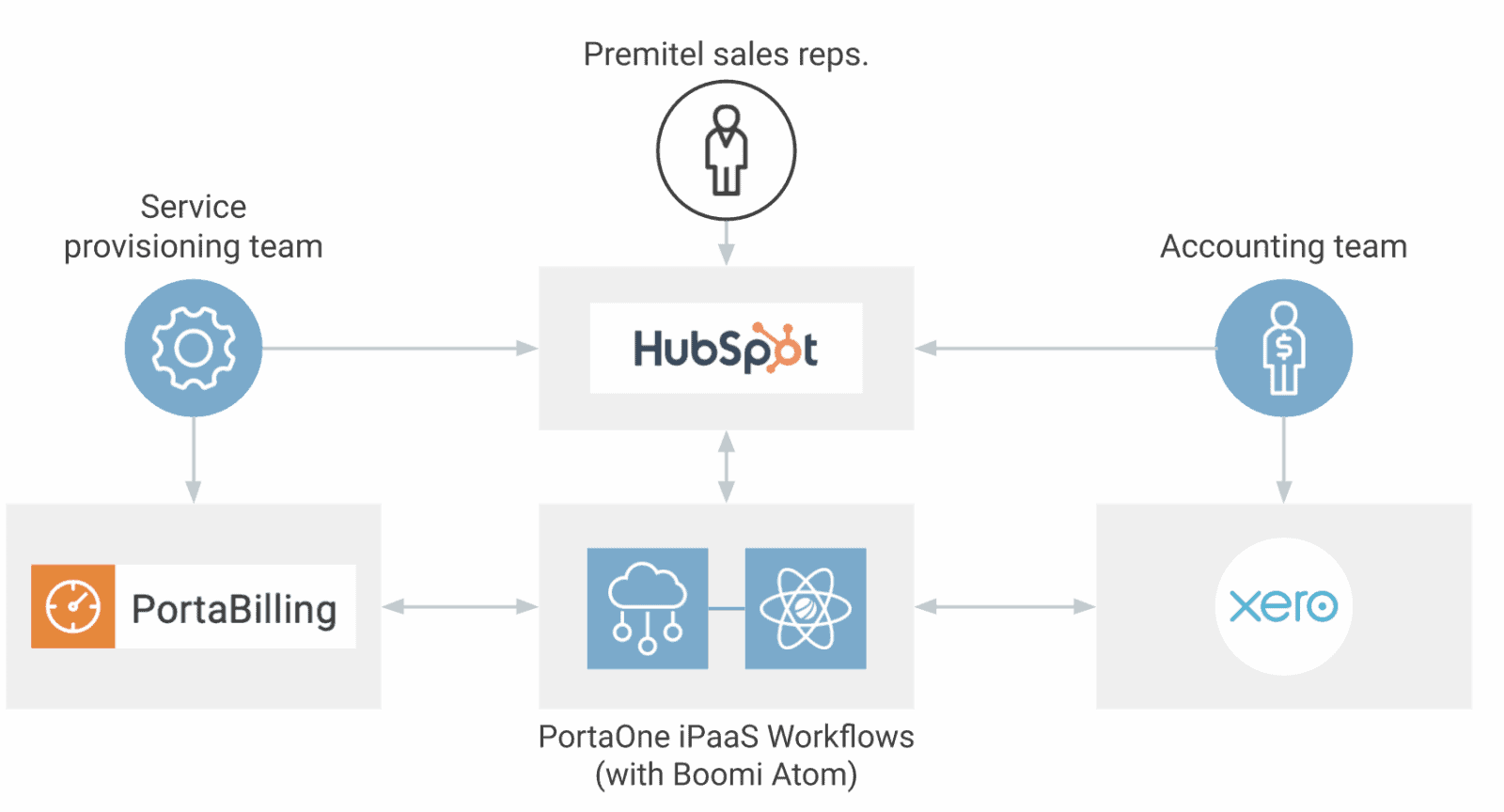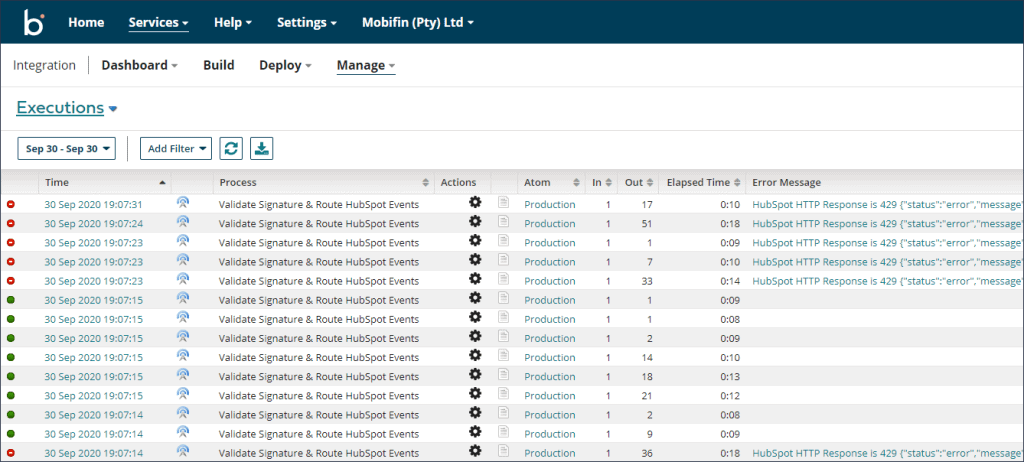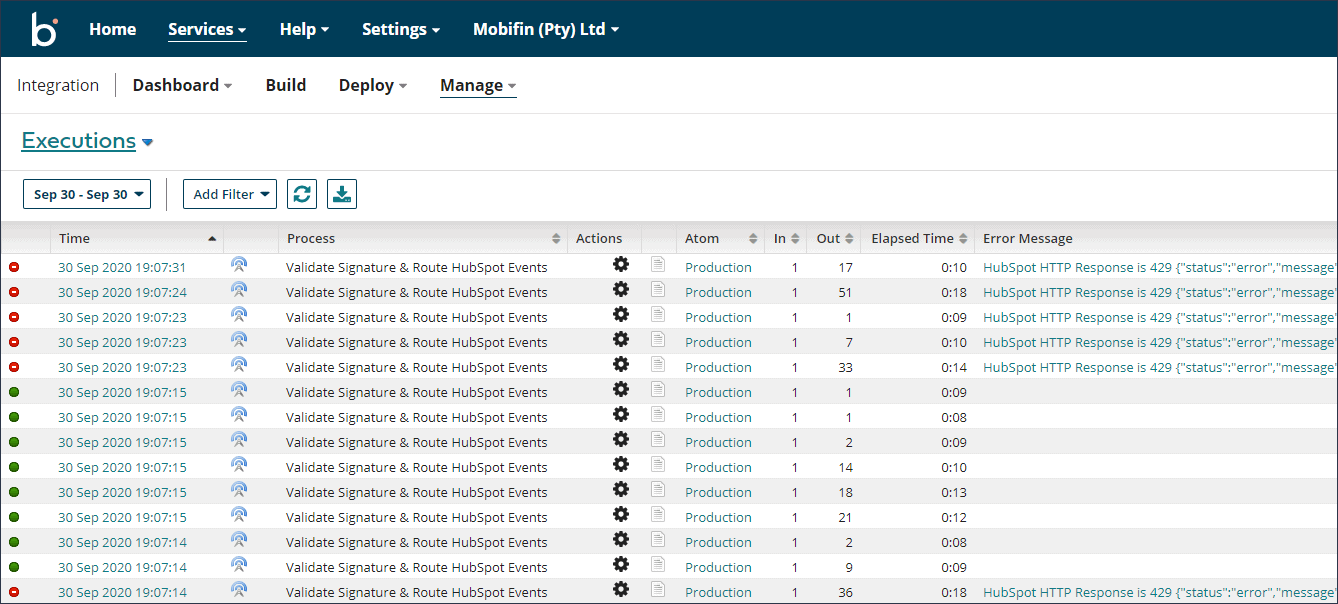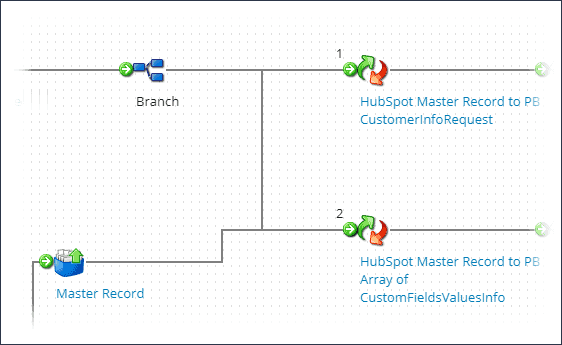 With PortaOne Workflows, we are now able to automate and sync some of the key points of our business operations. When new prospects turn into paying clients of Premitel, all the data on them, which already exists in HubSpot, is automatically synced with Xero Accounting. This frees up our time for things that bring immediate value.

The integration process was also very fast. We could connect the apps right away and start the testing the synchronization process for the first select customers.

Kobus Venter, Mobifin group/Premitel CEO
PortaOne Workflows allows everyone – not just professional developers – to create and maintain their own app integrations. The low-code approach and existing wide selection of connectors in the Dell Boomi catalog make it easy to add the necessary third-party tools and successfully synchronize them with PortaSwitch.

This means more flexibility, and less time for implementation. We're glad that our long-time client Premitel was the first to use our new PortaOne Workflows technology.

Andriy Zhylenko, PortaOne CEO
To learn more about Workflows and integration, watch our recent webinar on HubSpot and Xero integration.
About Premitel
Premitel is a forward-thinking ISP with offices based in Cape Town and Johannesburg. Premitel delivers networking and voice products and services to home and business users, providing discerning consumers with network delivered solutions.