In 2016, HelloSIM was launched. HelloSIM is a G-Mobile service in Armenia, a roaming SIM card that operates in 200+ countries.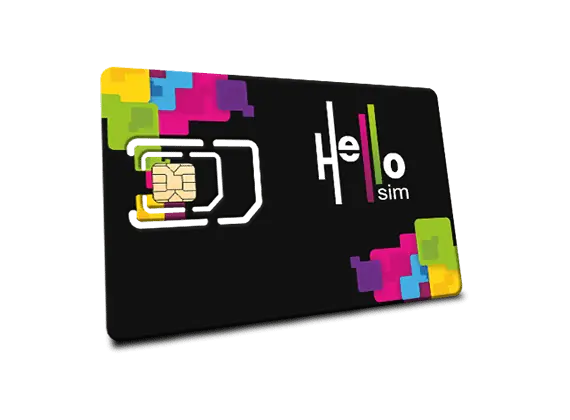 Since HelloSIM was launched in 2016, it has grown rapidly. Its customer base increased by 800% in 2017, and by another 150% in early 2018—and it keeps on growing.
The case: a travel SIM card
G-Mobile believed it could succeed in the MVNO market if the company was able to significantly lower its operational costs.
When we looked into the rapid growth of global travel in our region, we realized there was a need for an international SIM-card that would allow smartphones and other mobile devices to operate outside of their home countries at a reasonably low price.

Armenak Khachatryan, co-founder and CTO of G-Mobile
To lower costs, G-Mobile decided to build an innovative system that would ensure optimal international roaming by re-routing calls through countries where in-roaming tariffs are less expensive when combined with VoIP routing. For instance, when a customer wants to call someone in the country of Georgia while roaming in the USA, the international rate to Georgia offered by a US operator might be quite high compared with the rate to England. Thus, the call can first be routed to an access number in England, and once received there, converted to VoIP and then delivered to the Georgia destination via a VoIP route. The actual cost (GSM roaming US->England plus VoIP to Georgia) is still significantly lower than the original roaming cost US->Georgia.
A critical prerequisite for G-Mobile was a back-end infrastructure flexible enough to swiftly integrate with new services and, of course, to achieve low operating costs.
Our goal was to build a reliable system with low operational costs and a high connection quality that could work in 200+ countries.

Armenak Khachatryan
The challenge: infrastructure design
G-Mobile contacted several manufacturers and software developers in search of core network components such as HLR (Home Location Register). They faced two problems.
First, 'off-the-shelf' solutions are quite expensive. With traditional suppliers, like Ericsson or Nokia, the price could exceed a million dollars. Even with the less expensive, second-tier telecom vendors, it would still be almost financially prohibitive for an MVNO to invest in its own network infrastructure.
But even at such a high price, G-Mobile couldn't find a solution to meet all their needs. It would still require customization and further development; the final price would be even higher.
G-Mobile is not alone regarding this issue. According to Gartner, in the past three years, telecom operators' satisfaction with vendors' policies regarding product pricing and license transparency continues to steadily decrease.

Second—and perhaps even more important—MVNO is a highly competitive market, and if G-Mobile were to go with the same infrastructure as other MVNOs or duplicate the infrastructure design, the only area available for differentiation would be product bundling and pricing.
To be successful and to have a true competitive advantage, an MVNO must have flexibility to quickly deploy new services. At the same time, infrastructure operational costs must be low for them to stay profitable and offer competitive pricing.
We couldn't find ready-to-use systems to fit our needs, so we went ahead and developed them in-house

Armenak Khachatryan
Since its inception, TravelSIM was running business operations based on a platform developed inhouse. Although the solution performance was aligned with the business needs in the early stages, it became a bottleneck when business requirements became more demanding in order to remain competitive. The company experienced the following challenges:
What G-Mobile did: Custom Core + PortaSwitch
Within 14 months, the G-Mobile lab developed key components for the infrastructure of their new brand, HelloSIM, that included HLR, MSC, USSD and SMSC. In March 2018, they launched GGSN/GPW, and plan to upgrade their HLR to HSS as of September 2018.
They built a robust solution that could re-use the same platform for different projects and "mold" their system to meet market demands and requirements of other MNOs, their potential partners. They chose PortaBilling® from PortaOne to handle the service provisioning (BSS) and provide a real-time charging (OCS) solution.
We needed a flexible billing system with open architecture, so we could use its existing functionality and then develop further integrations or enhancements on top of that.

Armenak Khachatryan
Generally, TravelSIM benefited from implementing PortaBilling®, the BSS (Business Support System) and the OCS (Online Charging System), a platform with an open architecture and access to source code allowed HelloSIM to do exactly this.
PortaSwitch® is a platform for telecommunication service providers for unifying voice, messaging, and data traffic within a single converged network.

PortaBilling® is a convergent billing system. It can be used as a single administration interface for a variety of telecom billing services, including those provided by third-party network elements, while charges for the different services are grouped together in a single bill.
The flexible logic of PortaBilling® gave HelloSIM the competitive advantage to bill its customers under diverse scenarios. Users can be offered promotional or discounted rates such as limited free data, free calls for a pre-defined number of minutes, or rates that vary by time of day or call length.
As a crucial part of the network design, they implemented a CAMEL gateway. Besides the standard function of real-time authorization for outgoing calls (to verify that a customer has sufficient funds), it also performs a call redirect to a destination in a different country where the call is delivered for less. It is complemented by the SS7-SIP gateway that transforms a call from the SS7 protocol (operated by MNO) into VoIP protocol (SIP). This gateway allows G-Mobile to bring every (incoming or outgoing) subscriber call to PortaSIP® – VoIP softswitch, provided by PortaOne.
So instead of being locked into the international call rates imposed by MNOs, HelloSIM now has complete freedom. Outgoing calls to international destinations are now routed via the advanced PortaSIP® LCR (least-cost-routing) engine to VoIP carriers. This minimizes operational costs.
| Roaming in | Calling to | GSM operator, $/min | G-Mobile, $/min | Cost saving |
| --- | --- | --- | --- | --- |
| United Kingdom | China | 0.035 | 0.030 | 15% |
| France | Russia | 0.530 | 0.205 | 61% |
| United Kingdom | Georgia | 0.285 | 0.035 | 88% |
| Germany | Ukraine | 0.650 | 0.200 | 69% |
| Spain | Canada | 0.370 | 0.045 | 88% |
| USA | Georgia | 0.420 | 0.026 | 94% |
So, following PortaOne's "open architecture" approach, HelloSIM can implement any custom-call-handling scenarios directly in PortaSIP®.
The development of full mobile core and integrations took a little over a year. In 2016, HelloSIM went live.
A custom-built network core, together with PortaBilling® BSS, allowed G-Mobile to significantly lower its operational costs. In our estimate, the TCO (total cost of operation) for such a solution is 65% lower than the one for an off-the-shelf solution, and 80% lower than renting the infrastructure from an MVNE.
We were able to build a new reliable infrastructure for HelloSIM that has low operational costs. Our rates are 10 times lower than the standard roaming tariffs.

Armenak Khachatryan
Next opportunity: G-Mobile becomes MVNE
Soon after the HelloSIM launch, another MVNO opportunity opened up for G-Mobile. This time by Armenia's neighbor, Georgia, for the travel SIM card service, GeoSIM.
The requirements for GeoSIM mandated a "thin" deployment, whereupon an MNO (Mobile Network Operator, the host) provides the full network core: the only thing the MVNO owns is a system for subscriber management (to activate / deactivate SIM cards) and the OCS (to charge subscribers for their activity).
Using the "virtual environment" feature of the PortaBilling® platform, the new GeoSIM MVNO was physically deployed on the same platform as the HelloSIM operations in multi-tenant mode, which further reduced overall costs.
G-Mobile was able to use the existing physical servers and PortaBilling® licenses. The only new component was its integration with the MNO network.
With very little investment into further development and integration, we became a real MVNE delivering service to various MVNOs. GeoSIM now adds about 20% to G-Mobile's revenue.

Armenak Khachatryan
Results
Affordable travel SIM card.
In the travel SIM market, G-Mobile developed a competitive product and offers the lowest prices to its clients.
G-Mobile quickly became a leader in the Armenian market, growing its subscriber base by 800% in 2017 and by another 150% in the first half of 2018.
HelloSIM
GO-SIM
Telestrial
Card cost, $
15
49
19.95
Number of countries covered
200
190
200
Per minute cost to call the US, $
Canada
0.11
0.35
0.65
Mexico
0.28
0.75
0.39
United Kingdom
0.11
0.35
0.45
Cost to send text message to the US, $
Canada
0.05
0.35
0.4
Mexico
0.25
0.75
0.25
United Kingdom
0.05
0.35
0.25
Calls, SMS and data rates for HelloSIM and two other brands
MVNE Services
As an MVNE, G-Mobile developed a platform with a fundamentally different architecture from that of its competitors. It allows providing an MVNO with similar services at a lower cost.
Recently, G-Mobile entered the Georgian market, providing infrastructure for GeoSIM. Now G-Mobile is in the process of onboarding another MVNO in Belarus. Since the platform itself is ready, each new project only requires a small amount of integration work.
Thanks to PortaBilling®, we can quickly integrate with third-party applications such as CRM solutions, portals and payment processes. The API is very easy to use, and that saves us development time and cost.

Armenak Khachatryan
Future plans
There is another, bigger market for the G-Mobile product: its service is required by companies that need global communication to build an IoT system.
For example, a card similar to HelloSIM can be used by companies whose vehicles cross international borders. With this card, the companies can always be kept informed about location of their vehicles, fuel usage, engine status, etc.

Armenak Khachatryan
In fact, HelloSIM's functionality has been used to provide another successful startup, Lumzag (Lumzag Smart Bag), with global GPS tracking. Not only the location of the bag can be tracked in real time regardless of the distance, but this innovative bag can provide the traveller with a internet connection in any part of the world at an affordable price.
This is an example of a mutually beneficial collaboration between the two products entering the international market.
About PortaOne
PortaOne is a BSS & OCS and softswitch vendor for communication service providers.
Open
We believe in open-architecture and full transparency. All of our administrator guides are publicly available. As a customer, you receive access to the APIs, the data structure and even our source code. Yes, that's right—even our source code. We have nothing to hide from you, our customers.
Reliable
Our platform has evolved over the past 15 years within customer, testing and production environments. The result is a highly resilient product, ready to meet the demands of today's telecoms. Public or private cloud, geographical sites around the globe, HA clusters— all designed to ensure your service remains uninterrupted.
Agile
Time is the only resource you cannot buy. In today's telecom world, time-to-market is crucial. With only a 7-week release cycle, the system is DevOps enabled. This means you can deploy a new service or product in just a few months!
Unlimited
Our license is unlimited and perpetual. No per-feature, per-module or per-subscriber fees. Ever. We deliver all new functionality and features to you at no extra cost. This is part of your maintenance contract—and our promise to you.
For calls and faxes from Canada and the USA: + 1 866 747 8647
For calls outside Canada and the USA: +1 604 628 2508