The launch of the iOS version of PortaPhone Mobile is one step closer to extending the reach of our powerful softphone – PortaPhone – for Cloud PBX providers, making you more competitive and visible while reducing time to market for this service.
PortaPhone Mobile and PortaPhone Web combine to offer our Cloud PBX customers a 'work from anywhere solution' to your customers which competes with other voice and video call solutions and is fully brandable. The release of this demo version of PortaPhone Mobile to Apple AppMarket will help reduce the time and eliminate the costs it takes for our CSP customers to understand if PortaPhone Mobile is the right softphone solution to offer your customers.
What is a softphone and why do we need it?
Softphones, available across multiple devices, are a highly desirable feature for many companies these days. Yet, despite this high demand, there is relatively little quality competition there. Other similar solutions currently available are no longer up to the challenge with their obsolete app, usage SIP protocol that complicates the development, and old codecs.
Determined to offer a better softphone solution to our customers and your end users, PortaPhone by PortaOne employs webRTC technology which leads to the use of modern video codecs. This modern technology increases the video resolution to superior, HD-quality pictures.
Softphones became highly sought-after at the onset of COVID when employees were all forced to work from home. Many homes do not come with the necessary equipment, such as an Ethernet cable, to connect to a hardware phone.
Additionally, softphones enable a virtually free phone solution that does not require equipment.
And it gives companies and their employees the independence and freedom to work and communicate from nearly anywhere – from home, the office, a coffee shop, or walking down the street – and across multiple devices – desktop, laptop, and smartphones.
What does this mean for PortaOne customers?
Our Cloud PBX customers wanted to be able to offer an "office at home" solution to clients which includes PortaPhone Web, which opens in any web browser, and PortaPhone Mobile app.
This was accomplished by developing the feature "simultaneous ringing," incoming calls ring on all registered devices. This means you can increase your competitive edge by offering your users:
a competitive service that is comparable with MS Teams, Slack and Zoom
a truly 'work from anywhere' solution available on multi devices
Benefits of testing the PortaPhone Mobile demo version now
PortaPhone Mobile available on the Apple App Store is available to our customers immediately!
Additionally, while creating and publishing your own branded iOS app – typically a month long process- use our demo version through that time to test, coding, and configurations.
Essentially, we have reduced the time it takes for you, our customers, to understand if PortaPhone is right for you and whether or not to use it.
How we do it differently (and better)
PortaPhone was completely written from scratch by the developers of WebTrit, led by Yurii Cherniavskyi, and in collaboration with our PortaPhone team including project manager Svitlana Melnychuk.
The entire source code of the client part is shared as an open-source project (developers – follow the link to access the source code of WebTrit mobile app).
This is an important milestone for YOU, our customers because it gives you the opportunity to easily modify the application for yourselves and gain a significant competitive advantage.
With access to the source code and a developer, make any changes you want such as adding new tabs or features. For example:
an 'Online payment' tab can redirect to customer's website where they can make payments
'Promo' tab to inform customer about your latest offers and upsell new services
a 'Self-Care' tab to set up call forwarding or switch on/off call recording
How to get access to the demo version of PortaPhone
***If you already have PortaPhone Web see below:
Visit the App Store and search for PortaPhone 2 or click on this link
Download the app
Enter your email and use the one-time password sent to that email to login
If you like the PortaPhone features, contact our sales team to start your free trial of your own PortaPhone instance.
Free trial & special offer:
Activate the commercial subscription before March 31st and get 50% off the 'branding customization' service which delivers you a fully-branded mobile app including your logo, colors, icons, and name.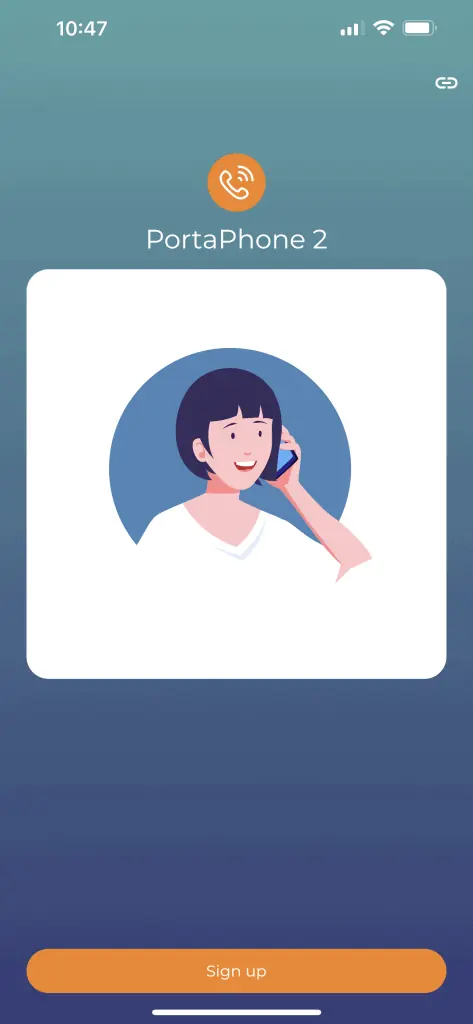 How PortaPhone Web users can get started now 
If you're already testing PortaPhone Web, then you can immediately start testing PortaPhone Mobile app through your current system:
Download the PortaPhone app
Choose "Sign in"
Add the address of your PortaPhone Core URL, found here.
(Or check your inbox for an email from us, providing the necessary value to be entered here, as well as the date when your PortaPhone cloud back-end will be updated to the new version that supports PortaPhone mobile.)
What's next for PortaPhone (Mobile)
The Android version of our app is now also available!
If you are interested in accessing the demo version of PortaPhone Mobile and helping us in our testing of this app, please contact sales today and let's get you started in the process!